Deprecated
: Function create_function() is deprecated in
/home/erikzcbg/public_html/mamitales.com/wp-content/plugins/related-posts-by-zemanta/init.php
on line
183
Deprecated
: Function create_function() is deprecated in
/home/erikzcbg/public_html/mamitales.com/wp-content/plugins/related-posts-by-zemanta/init.php
on line
183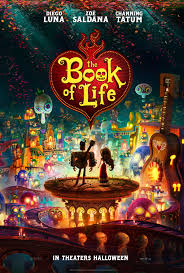 Today I took Little Miss I to go see The Book of Life, a new movie produced by Guillermo del Toro, Aaron Berger, Carina Schulze and Brad Booker, and directed by Jorge Gutierrez, as his first feature. I had been wanting to see this film ever since I knew it existed (long time before it opened), and I was both excited and very happy to say it met ever expectation I had… and surpassed them by far. I was taken by the story, the colors, the animation and every aspect of this film. It is a wonderful ride on the theme of the day of the dead and what is means, in essence, to a Mexican born and bread. I am not religious, but I do believe that the dead really die when we stop remembering them. And this movie touches upon this very subject matter.
The story itself is rather simple, taking the myth of Orpheus and his bride and setting that conflict within the realm of pre-hispanic Mexico. The mythology behind it is a mix of art, color, and cultures — some aspects of the Aztecs (like the detail of Coatlicue, the Aztec goddess of war, as the statue separating the land of the remembered and the land of the forgotten), some of the Mayans (like Xibalba, who is the land of fear), and amalgamating the Tortilla western with bullfighting and Mariachis… a very folkloric blend of all things Hispanic — which ends up being a world of its own, with its own rules and mythology. But it was a mix from someone who comes from deep inside — and the result was harmonic and very interesting.
I teared up in a couple of places, specially when it comes to seeing death as a celebration of life, not as a sad affair. That, in a few words, is what the Day of the Dead is about. It was a beautiful way to introduce the concept to my 6 year-old, who just lost her Great Grandma last week. On the way back, and hours after watching the film, she was still asking questions about the story, the characters and what she had seen and learned.
I do recommend watching this film. Don't wait for the DVD, as watching it in the theater is the perfect way to really notice all the wonderful details of this fantasy world so skillfully created by Gutierrez. If you have children, bring them… if not, as someone said, it makes the perfect date movie to go out of the theater feeling happy to be alive.