Deprecated
: Function create_function() is deprecated in
/home/erikzcbg/public_html/mamitales.com/wp-content/plugins/related-posts-by-zemanta/init.php
on line
183
Deprecated
: Function create_function() is deprecated in
/home/erikzcbg/public_html/mamitales.com/wp-content/plugins/related-posts-by-zemanta/init.php
on line
183
Deprecated
: Function create_function() is deprecated in
/home/erikzcbg/public_html/mamitales.com/wp-content/plugins/related-posts-by-zemanta/init.php
on line
183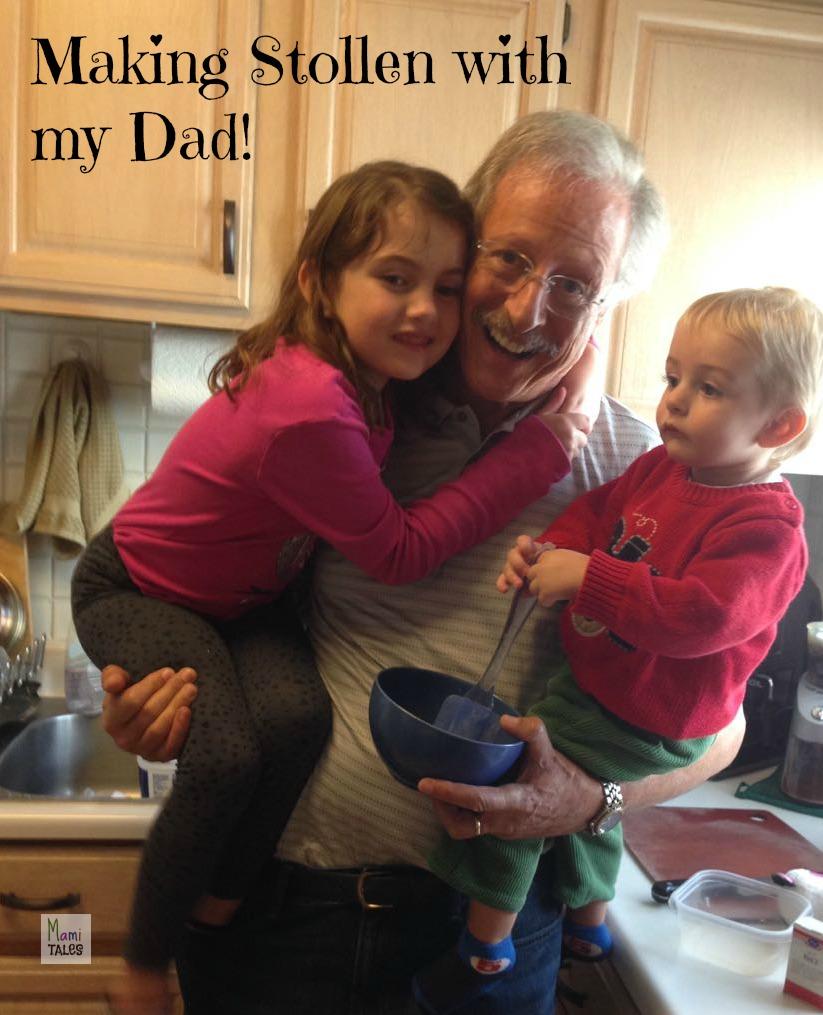 Even if it's not Christmas…
This past week we had my Dad in town, and as he knows about this blog combines my passion for stories and baking, he asked if I could find a recipe for Dresdner Stollen and teach him how to make it. I found a base recipe at a German Food website and we got to work, cooking with the kids.
My Dad said this bread was something that always reminded him of Christmas. It is a German tradition to make it for the holidays, and give it away too. You always make 2 — you keep one and give the other one away as a gift. I found this piece of history at Dresden Stollen:
"Dresden Stollen is said to have originated in 1329 as a result of a contest offered by the Bishop of Nauruburg. Bakers in the region produced a wonderful bread baked with the finest butter, sugar, raisins, citron and other specialty ingredients. The Bishop enjoyed the stollen so much that he ordered a quantity of grain saved for stollen only.
Stollen at that time were baked in loaves weighing 30 pounds. Stollen became such a part of Dresdeners' lives that it was cut and served with special, stollen only utensils. It was also tradition that the first piece of stollen was set aside and kept to ensure the family would be able to afford a stollen the following year and the last piece saved to ensure the family had enough food for the year."
As part of our German family came from Dresden, the tradition kept going in Mexico too. Apart from the Gingerbread houses I make each year, I think I'll have to adopt this tradition too!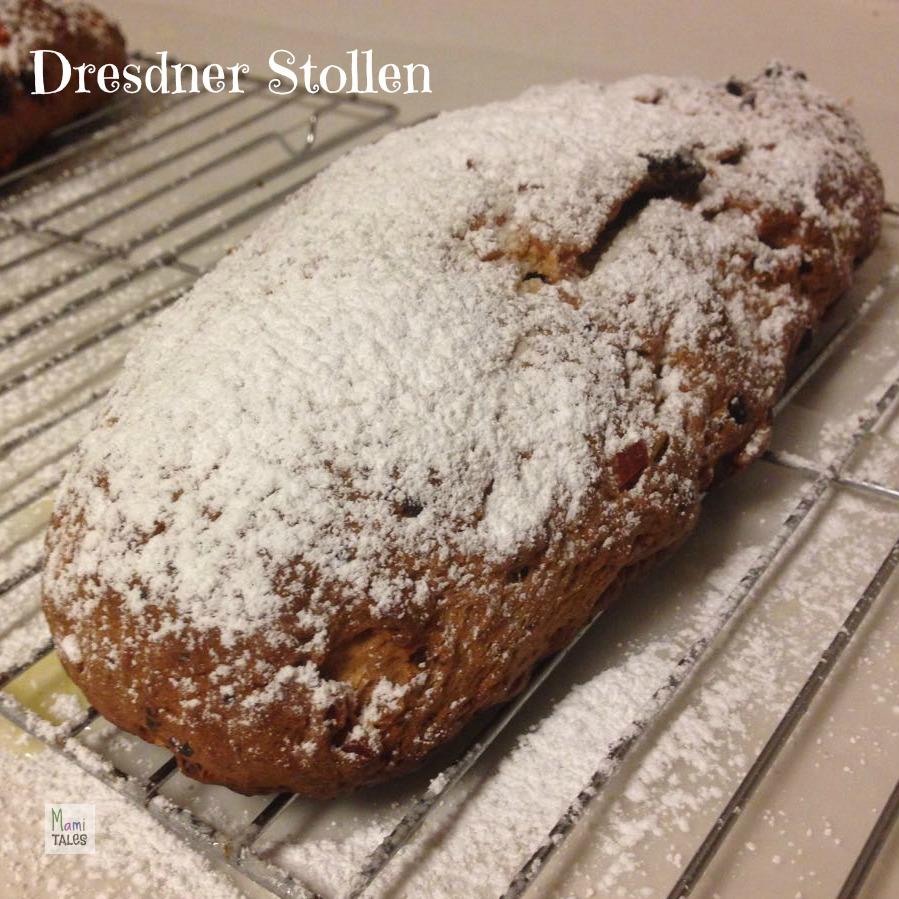 Dresdner Stollen
2015-02-04 15:33:30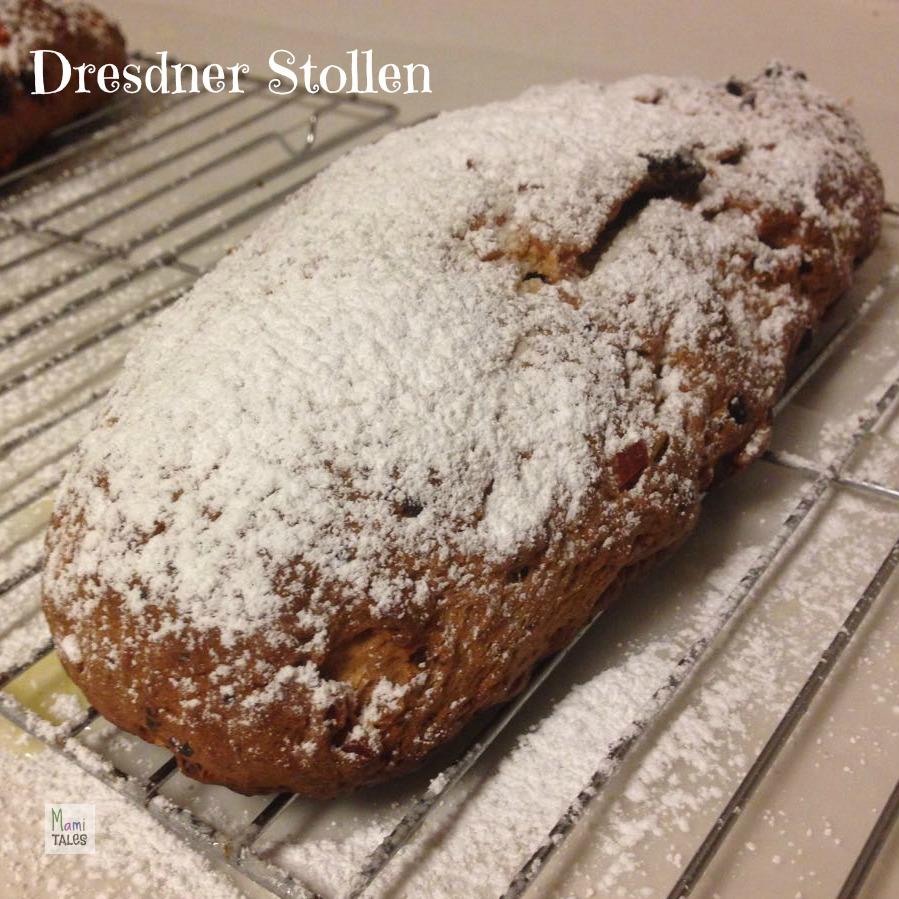 A traditional German style Fruitcake that keeps moist for several weeks.
Ingredients
2-1/2 c raisins
4 TBSP rum
4 c bread flour
1 c milk
2 1/4 tsp active dry yeast (one packet)
1 c sugar
1/2 tsp salt
Grated zest of 1 lemon
1/2 tsp ground mace (or nutmeg)
1/2 lb unsalted butter (2 bars) at room temperature
2.5 oz almonds, ground or finely chopped
1 c chopped walnuts
2 oz candied lemon peel, finely chopped
2 oz candied orange peel, finely chopped
4 TBSP Unsalted butter for coating
1/2 c confectioner's sugar for dusting
Instructions
Soak raisins in rum overnight.
Warm the milk and combine 2 TBSP of the milk with the yeast and a tablespoon of the sugar. Let rest for 5 minutes. The mixture should bubble and foam. If it doesn't, your yeast is not working and you should repeat this with another packet of yeast.
Once the mixture foams, combine the rest of the milk, sugar and flour. Add the butter, and form into a soft dough.
Incorporate almonds, chopped walnuts, candied lemon and orange, lemon zest, mace and raisins, one after another always kneading the dough thoroughly.
Let rest for 1 hour, so that the dough rises some. Mine really didn't rise much, but the more it rises, your Stollen will be fluffier and springier.
Knead the dough once more, then divide equally and shape two Stollen loaves.
Bake for about 1 hour in preheated oven at 350° F.
After baking the Stollen, brush them with melted butter and dust generously with confectioners sugar.
Allow the Stollen to absorb the juices for at least 1 week before cutting.
Stollen has a long shelf life and can be made weeks ahead of Christmas.
Notes
We did cut the first loaf right away to try it, and it was good... but the longer you wait the moister and more developed the flavor will be.
Adapted from German Foods
Mami Tales http://mamitales.com/
Here are some pictures of my Dad dusting the baked loaves.
We tried the recipe and it was good. My Dad took the second loaf with him and promised to report back after a week, to see the differences in taste (we tried the first one right after it was baked). I want to try another option for this recipe, in order to have a softer and more buttery version of it, but it was nice. If you have a recipe you love, please do share in the comments section!!