Little Miss I came home the other day with a little story she wrote in her kindergarten class. She said that my blog had inspired her to write it, so I wanted to share both the story and the drawing she colored too. Hope you enjoy "The Giant Chocolate Chip Cookie" it as much as I did!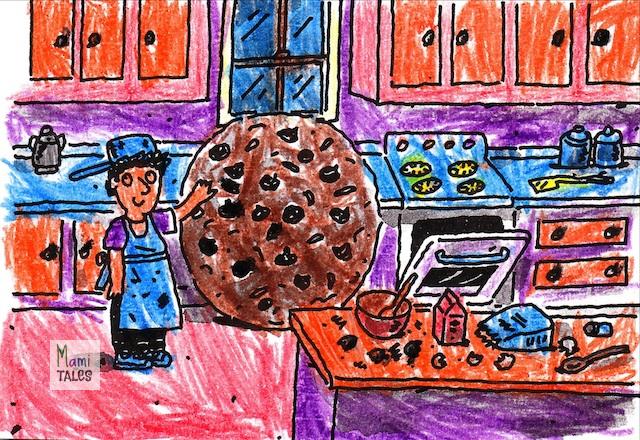 "I was at home cooking a small batter of chocolate chip cookies. But instead of small, I had a giant chocolate chip cookie. When my parents got home I was scared. But they came into my hiding place with the cookie. My room was a mess. It was full of chocolate chip. We cleaned it all up, top to bottom. My parents saw the cookie and said, "This is awesome." They said, "Let's have a party!" So I invited all my best friends. Old friends. New friends. Everything was great. We all ate the cookie. There was enough for everybody. We had a cookie eating contest. The end."
I think I might concoct a recipe for chocolate chip cookies to go with this… If I do so, I'll re-post and re-share. For the time being I leave you with the sweet taste of the world according to a soon-to-be 6 year-old.