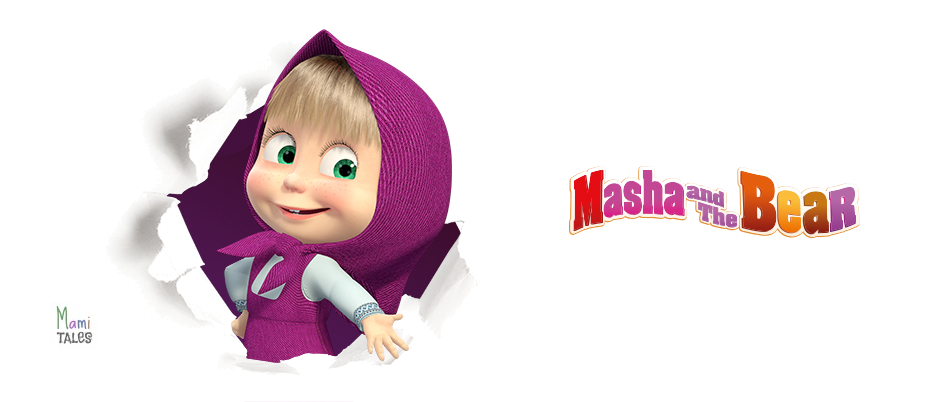 As some of you might know, before being a mommy I was a writer-director for film and TV. I took a little break when my Tiny A came last year, after a complicated pregnancy, but now I'm back and directing my daughter!
Right before Tiny A was born I did the Spanish translation and voice over directing for a Russian Cartoon called Masha and the Bear, about a little girl who lives in the woods and has a Bear as her playmate. It's a very fun show and we tried getting Little Miss I to audition for it last year. However, her Spanish was not very good then, and also she was too young to read. Back then I told her she had to make an effort to speak Spanish if she wanted to try again.
Fast forward to this year… I was contacted again by the producer to do the Spanish version (translation and voice over directing) of the final episodes of the season. I asked her if she was still interested in finding a new voice for Masha, and she said it was a possibility. I asked Isabel if she'd be interested to give it a try again and her eyes shone with the prospect. So I printed the script for her and we rehearsed several times, before we recorded her audition at home. After hearing Little Miss I, the producer asked me to get her for a call back at the recording studio with another script for a select group of girls. So yesterday, after another whole weekend of rehearsing, Little Miss I went with me to the recording studio and gave it her best shot. They loved her playfulness and freshness. After consulting back with the studio in Russia, she finally got the part.
What I love most about all this is the fact that it has helped Little Miss I to warm up to the idea of speaking more Spanish. When she was about two she started attempting a more conversational Spanish (as compared to just words here and there) the moment I began playing movies in my language for her. I've always spoken to her in Spanish since she was born, but living in the US and having her in daycare in English made it almost impossible for her to attempt switching languages and make an effort. Last year she had a few friends in Kindergarten who spoke Spanish, or at least understood it, and then she began to warm up to the idea of speaking it well too. Being able to play the part for the cartoon show was just the little thing that finally tipped the balance in my favor. Now I'm looking forward to spending some time with the kids in Mexico so their Spanish improves more and more. I think it was a valuable lesson for Little Miss I that the first job she landed was because of her advantage of being fully bilingual.
I'm also very glad to be able to spend some alone time with her doing something we both love, as since her brother arrived I've not been paying her full attention. I'm very excited and I'm sure I'll be posting soon about how it all turned out! Our recording day in Friday, and I'll make sure to take a picture of us.