I feel I've neglected my blog this past week, despite the couple of posts I wrote… I've been just going crazy with life. Last Tuesday my Little Miss I turned 6, on Thursday my husband and I celebrated 10 years of marriage and then I had planned an insane themed party at home for my birthday girl (Frozen… go figure). So, in just that week, we had birthday, anniversary and party back to back. To to make things even more fun, Little I was sick and at home two days right after her birthday, throwing a wrench on all my party preparations.
Tuesday my little one turned 6. For me it was a weird birthday, as I had a major accident that changed my entire life right before turning 6 myself. So, seeing her safe and sound to this birthday was a pretty important thing for me. Here she is opening her presents.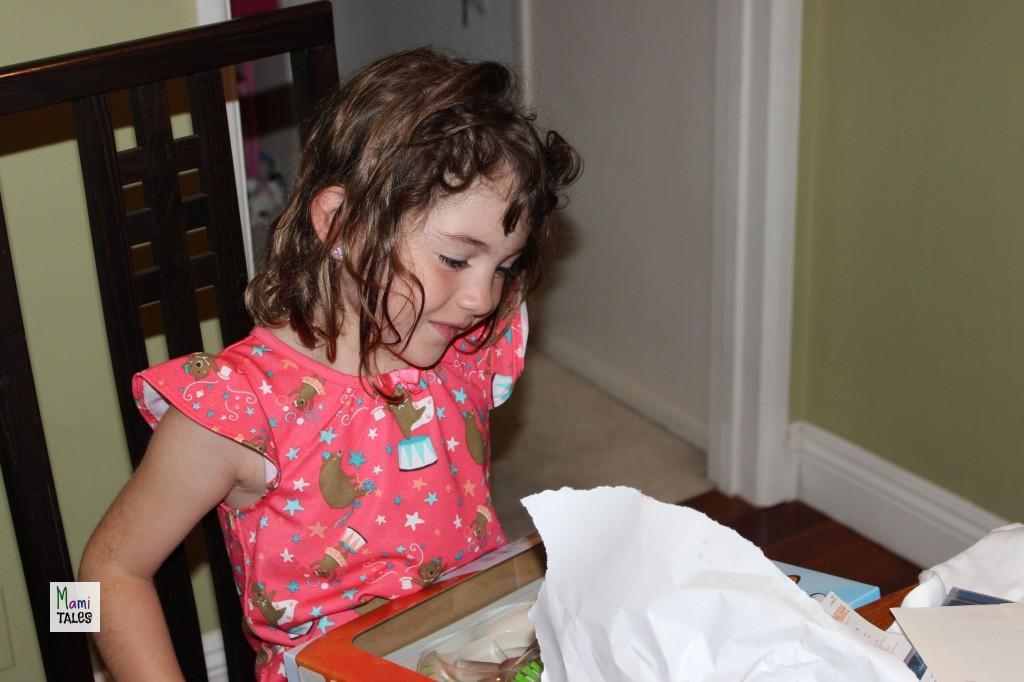 Later that day I went to deliver cupcakes to her school so her friends could celebrate with her. That night, she came down with a fever, so she skipped school for two days — which brings us to Thursday, our 10th wedding anniversary. We had to cancel babysitter and dinner reservations, as we didn't want to leave a sick child on anyone's care. However, here's a picture of our wedding, 10 years ago.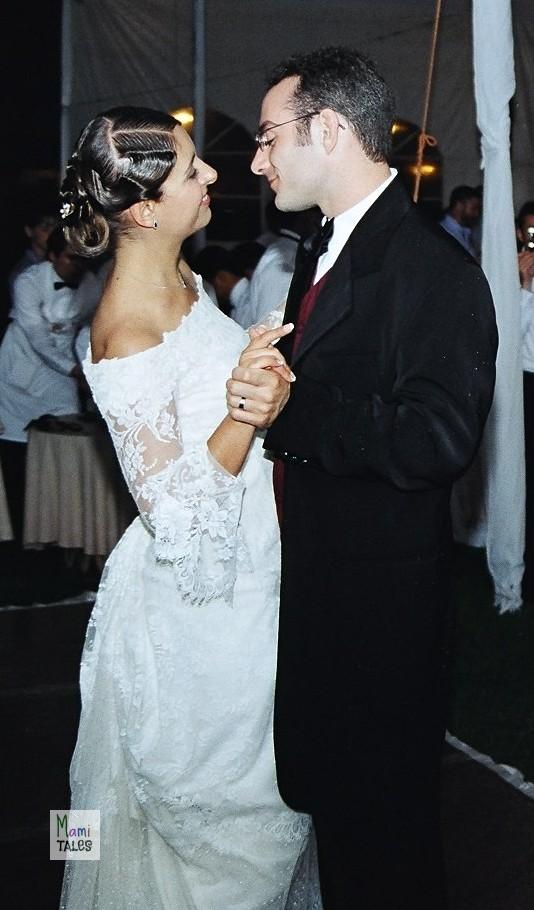 Friday I finished Little I's Elsa-from-Frozen's cape, that night my Mom-in-law flew in, then Saturday we were planning and buying stuff for the party a good part of the day. I baked one of the cakes that afternoon and then Andrew and I went to finally celebrate our anniversary at Saddle Peak Lodge in Malibu (my super MIL watched the kiddies that night).
We had a lovely dinner, and we chose to try the 7 course tasting menu. My favorites by far were the Ahi Tuna sashimi and the Elk with caramelized figs. We then had two desserts, as there was a little misunderstanding in the kitchen and they had already prepared two delicious plates with molten chocolate cakes and "Happy anniversary" written on them when they realized we had ordered the tasting menu… So we also had a chance to try the olive oil cake with buttermilk sorbet from the tasting menu, which was absolutely wonderful. We'd been to the Lodge before, and every time we go we enjoy it very much. Wonderful food with a great quiet environment. Perfect for a two person celebration.
Sunday I baked another cake, decorated the house, made blue jello and a cheese-ball snowman with carrots and pretzel sticks. I'll post the recipe later, but here's the picture of the little guy.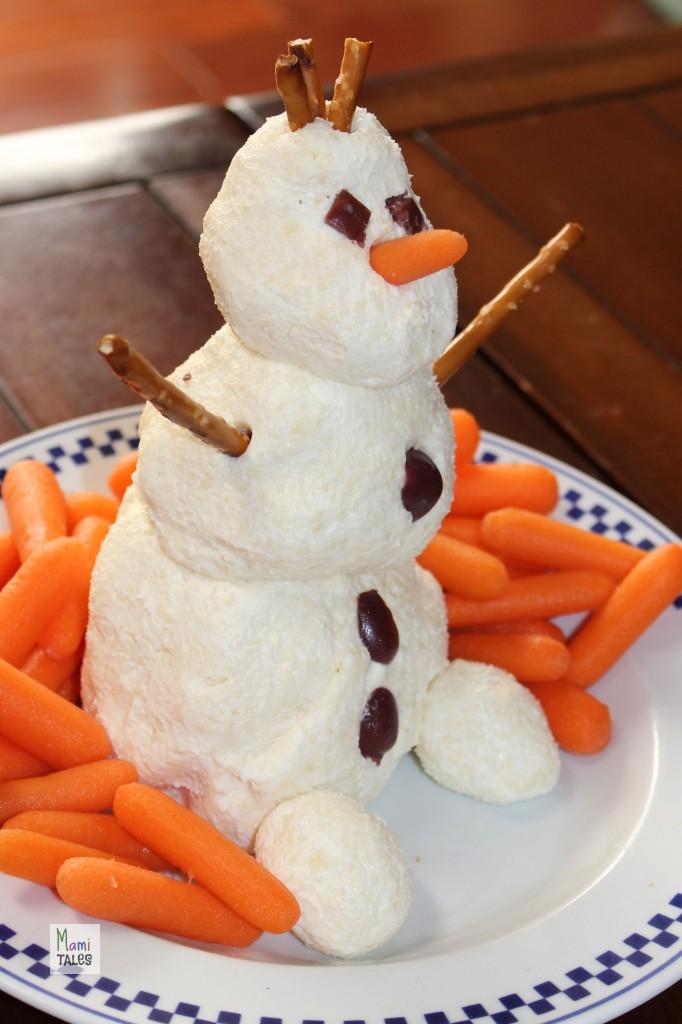 The party was a lot of fun, with a special appearance from Queen Elsa (Mama Cío's birthday present for Little Miss I), who came and gave a special magic show and painted faces for our guest princesses and knights. Little Miss I enjoyed it all. However, as usual, I ended up trying to do more than I could reasonably tackle — and as a result I ended up not taking many pictures… but I'm sure I'll get some other friends to lend me some to reconstruct all we did for decorations, cakes and such.
Here's Little Miss Elsa from Frozen, with her face painted and the "two Elsas".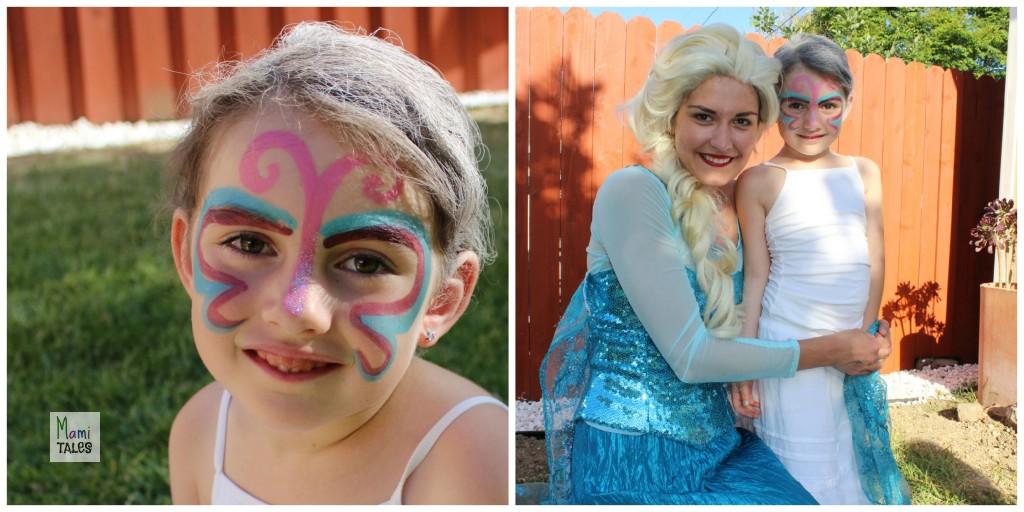 Monday came and I was exhausted… but so happy that everybody enjoyed the fruits of my crazy week.